Celebrating Over 30 Years in Business
Intelligence Led Security
Contact MBSS | Security Services in Exeter, Devon and the South West
Tel: 01392 426 947 | Email: info@mbssuk.com
Your own dedicated security guards.
Dedicated Security Officers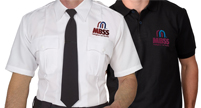 Quick & Effective response, less hassle for you!
Full Solar Farm Security Solutions in the South West.
Tomorrow's technology, today - and at affordable prices!
A perimeter security fence or barrier.
NFC-enabled mobile containing Real-Link application.
Real Link Security Systems
Install security solutions and lower your security premium.
We are approved by the national security inspectorate (NSI) and have been awarded the gold standard. Our price structure is competitive and flexible. Short, medium and long-term contacts are available to meet your specific security requirements. We are always happy to arrange a visit to your premises to assess and consider the needs of your situation, with the assurance that we will be offering you a competitive and professional service. References are available from satisfied clients to ensure the peace of mind that comes with a recommended organisation.
THE FULL SECURITY SOLUTION
Ensuring the safety of your employees.
Tomorrow's technology, today - and at affordable prices!
Let us take the hassle out of alarm response.
Manned presence on your site - the best deterrent!
Dedicated Security Officers
Real Link Security Systems
Intelligence Led Security
Celebrating Over 30 Years in Business
Welcome to Marsh Barton Security Services
Celebrating Over 30 Years in Business
Celebrating Over 30 Years in Business
Intelligence Led Security
Security Services in Exeter, Devon and the South West | Exeter: 01392 426 947 | Email: info@mbssuk.com
Welcome to Marsh Barton Security Services